credmap: The Credential Mapper
Intro
It is not uncommon for people who are not experts in security to reuse credentials on different websites; even security savvy people occasionally reuse credentials. For this reason "credmap: The Credential Mapper" was created, to help bring awareness to the dangers of credential reuse. Credmap takes a username and/or e-mail, and a password as input and it attempts to login on a variety of known websites to verify if these credentials have been reused on any of them.
Prerequisites
To get started, you will need Python 2.6+ (previous versions may work as well, however I haven't tested them)
Python 2.6+
Git (Optional)
Download
The next step is to download the project.
In order to do so, you can clone credmap from the repository hosted on Github (Recommended)
git clone https://github.com/lightos/credmap.git
or download the ZIP file directly from
https://github.com/lightos/credmap/archive/master.zip
The reason cloning the project from the git repository is recommended over downloading the ZIP file is mainly because you will later be able to use the --update feature which does a git pull request.
Running the program
To run credmap, simply execute the main script "credmap.py".
$ python credmap.py -h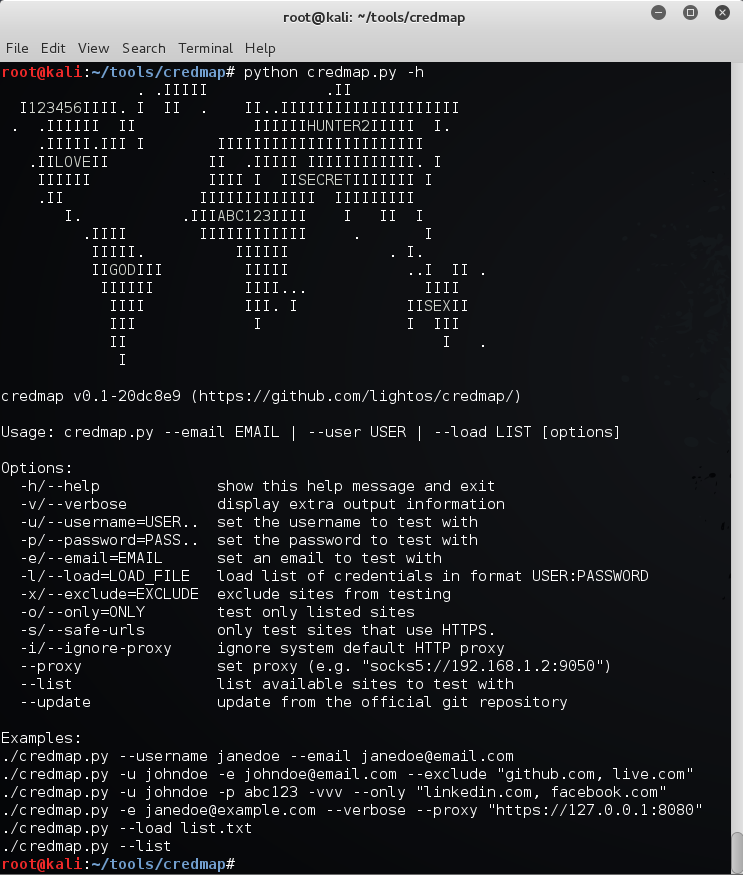 Figure 1: credmap's help menu.
Figure 1 illustrates all of the options that credmap currently supports during the writing of this post. It has almost all of the features one would expect from a web penetration tool. However, certain options aren't displayed in the help menu as they are already pre-configured individually for each website in the XML files located in the "websites" folder.
To start testing, a username and/or e-mail is required and a password. These can be specified with the --email, --username, --password arguments or through the --load argument which loads a list containing credentials separated by a colon (user:password).
python credmap.py -u credmaptool -e [email protected]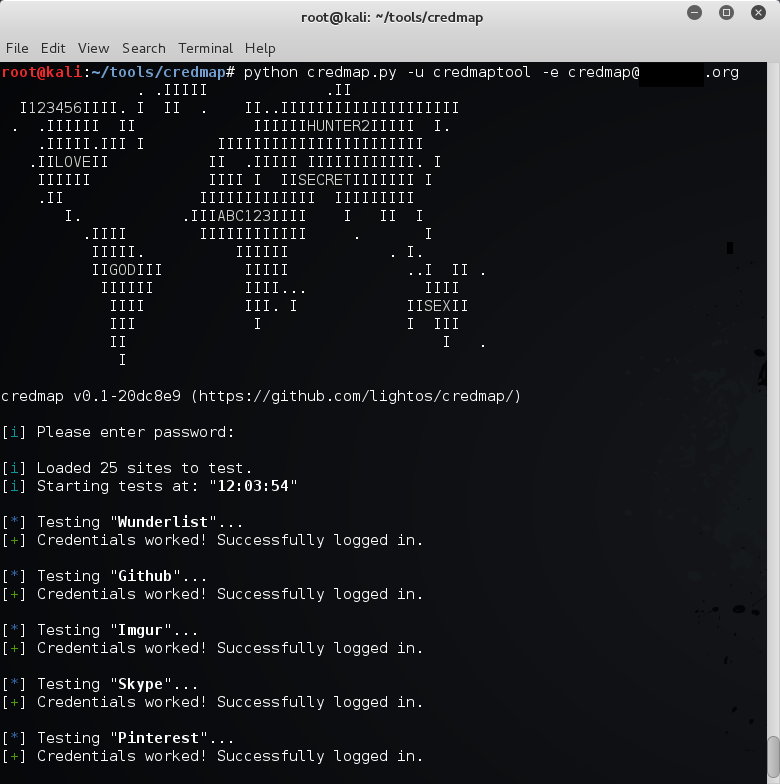 Figure 2: credmap begins testing different sites with the provided credentials.
If further information is required for each HTTP transaction, the verbosity levels can be increased from 1-3. Verbosity level 1 will show the CSRF token whenever it is fetched, while verbosity level 2 will show information about the HTTP request and verbosity level 3 will show the entire HTTP response, including the HTML.
python credmap.py --load credentials.txt -vvv

The configuration for each website is stored under the "websites" folder in individual XML files. The --list argument is useful to view a list of all websites available for testing. Filtering is also possible by excluding or only testing certain websites. To exclude websites from testing, the --exclude parameter can be used by passing the websites as comma separated values. On the other hand, to only test certain websites, the --only argument may be used also passing the websites as comma separated values.
python credmap.py --load credentials.txt --exclude example1.com,example2.com,example3.com

Figure 3: An example of an XML file with the required entries to login to Twitter.

As seen in Figure 3, adding a website is usually pretty straightforward. For a brief description of all the possible options that can go in a XML file, check out credmap's wiki.

Outro
More websites will be supported and new features will be added in future releases. All contributions are always welcome!